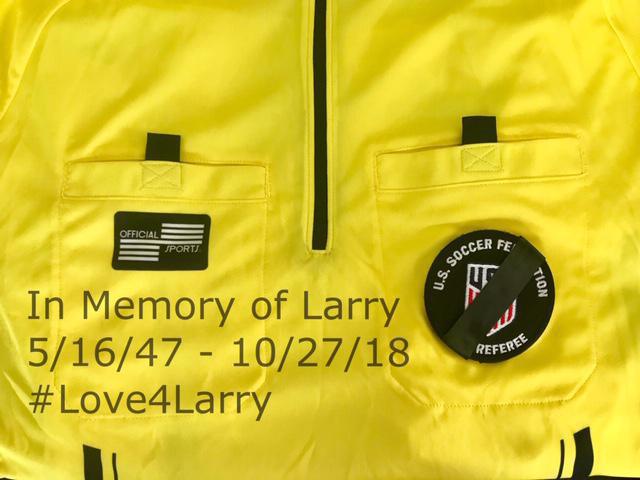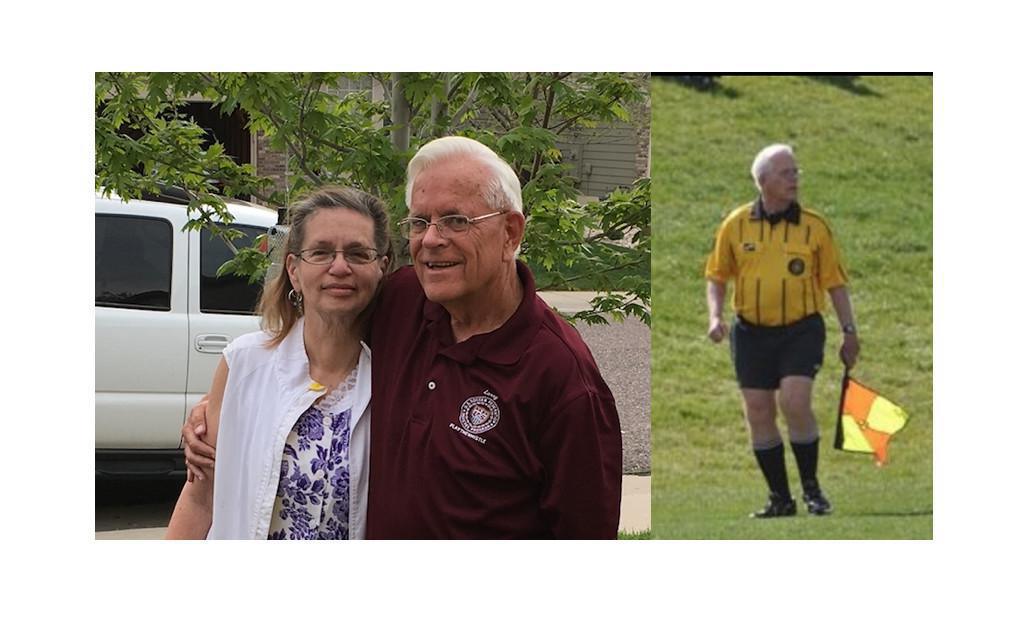 10/27/2018 5:45PM
Referee Family -
"Time to Let Go"
This evening at 5:30pm Larry has left us for a better place.
It is with heavy hearts that we share with you that Larry has passed away. We will share with the referee family further details about a memorial and service as we receive information from the family.
Please keep Larry's family in your prayers!
October 17, 2018
We are saddened that this is not a positive update about Larry's condition. A phone call from Lisa his daughter and Larry has provided news that Larry's ADS has developed into Leukemia and Larry is in the ICU at Sky Ridge hospital. Doctors will be meeting with Larry and family soon regarding the options. Larry and his family are asking for prayers from his referee family at this time. Please keep Larry and family in your thoughts and prayers this difficult day.
---
Update From Larry 3/6/2018
I was one of 450 candidates who got accepted into the case study yesterday and begin their testing on Monday the 12th of March. Don't know what the future will be from there. I also got a port installed last Tuesday the 27th so my arms are getting a rest from the needlesand IV's. Thank God! What a relief.
Sent from Larry Smith's IPad ​
Update From Larry 2/28/2018
To the referee community, players, coaches, and clubs I can't thank you enough for your kind words of encouragement and prayers. I'm touched deeply by all of you. I especially thank you for your contributions as they have helped beyond comprehension. I am indeed a very fortunate person. Thank you so much.
I still have a long ways to go. I've been in the hospital a couple of times now for pneumonia and influenza. Glad that's over. After all the pricks in my arms for blood and IV's, I finally got a port put in yesterday to take care of further blood tests and IV's. My black and blue arms should return to normal before long.
I'll see Dr. Jotte on Monday the 5th for a follow up to the port they put in yesterday and then again on the 12th & 30th for more tests to try & qualify for the special case study on a new drug to help MDS patients.

Your continued support will be greatly appreciated. Thanks so much.

Sent from Larry Smith
#Love4Larry - Original Story
On a beautiful Saturday in November we visited Heritage Park, where Larry Smith was mentoring and training new referees. Larry mentioned that he wasn't feeling good and lacked some energy. Basically, he said that his "get up and go" kind of got up and left. But being Larry, he proceeded to work for the remainder of the day because Larry loves to be at the fields and help referees.
And now, it is February 14. After 7 blood transfusions (9 units) and 6 hospital stays, Larry has been diagnosed with Myelodysplastic Syndrome (MDS). Larry said this morning that MDS is a form of cancer where the bone marrow cannot produce red blood cells. His treatment plan is to have more blood transfusions (as long as he is able) to keep replacing his red blood cells. He is applying to become part of a Clinical Study experimenting with new drug in order to help manage MDS.
Many of you -- Coaches, Fellow Referees, Assignors, & Administrators -- have grown to know Larry over the years, and he would love to hear from you. But first, Larry has an amazing story of life, and of soccer, to share with you in order to make the soccer fields a better place. How the tables have turned!
"In 1999, as a father of a youth soccer player, I was loud on the sidelines on game days. Even though my son was only 8 years old at the time, I yelled at the referees. I was loud and obnoxious enough that I received a personal telephone call from my son's soccer coach asking me to take the club referee class so I could referee my son's home soccer games. I figured that he must have heard me, or received a complaint about my yelling. I agreed to help, attended the referee class and volunteered as a referee for my son's games and all games each Saturday at Marcy Park for three years for REAL Colorado's recreational program. Thanks, Jack Lima for encouraging me to become a Referee -- and a better person at the soccer fields.
Soon, I realized that I loved running up and down the fields, being outside, interacting with players and coaches. In 2002, I became a certified US Soccer Referee. Here it is, 16 years later, and I can't get enough of soccer. I love it! It is my passion, I still love to referee, and I am a Mentor too. Now, I help protect the referees from the person that "I used to be" on game day.
Over the years, I have been privileged to referee many CSA youth games and tournaments -- for Colorado Storm and for REAL Colorado. They were the home fields for my son. I was eager to advance and referee as much as possible. I joined CHSAA where I could referee high school games in the evenings after work. On weekends, I would referee CSA Youth games, amateur games, ECNL, DA, NPL, DPL, State Cup, and Presidents Cup. When Colorado hosted National and Regional Events, I would volunteer as a referee, golf cart driver, or provide transportation from the hotel to the soccer fields for our visiting officials. Most recently, I served as treasurer for the Colorado Referee Committee. It was a wonderful learning experience, and would do it again in a heartbeat.
In a conversation I had with my son David this week, we talked about managing my MDS, and how eager I am to return to the pitch. In jest, we laughed about how much I have changed -- going from a loud mouth, know-it-all parent to being a staple in the referee community and setting an example on the fields."
For those of you know Larry, you will agree that he is a man of his word, maintains a high sense of integrity, and is full of good will. As a former United States Army Sargent, Larry has high standards, is honest, is committed to "doing things right," and giving 100%! Larry's hearty laugh is infectious. He is a joy to work with, and is an asset to Colorado's Referee and Soccer Community. Larry is the proud father of three adult children and two wonderful grandchildren.
Larry would love to hear from you. Your words of encouragement, positive thoughts, love and prayers are needed. In addition, to assist Larry, and his wonderful wife Cindy, with medical expenses a GoFundMe account has been established.
Donations can be made at: GoFundMe
If you would like to correspond with Larry, you may contact him at:
Email Larry
Calls & text messages are welcome: 303-902-1612
Social Media Hashtag #Love4Larry